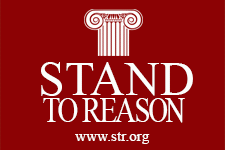 Stand to Reason (STR), founded in 1993, is an apologetics ministry that equips Christian ambassadors with knowledge, wisdom, and character. STR trains Christians to think more clearly about their faith and to make an even-handed, incisive, yet gracious defense for classical Christianity and classical Christian values in the public square. The president and founder Greg Koukl has assembled a team of speakers available for teaching and training which includes Alan Shlemon and Tim Barnett.
They have a load of short videos spanning various subjects that are a rich resource available to the church, Christians, and culture. Topics range from apologetics like the existence of God and reliability of the bible to ethics issues about homosexuality and abortion. They are short (most under 3 minutes with almost all of them under 5 minutes) and informative (they have great content, quotes, and facts on each issue) and great quality (top notch video production, many with animation and multi-camera set-up).
Here is a sampling of some of their great videos:
They also have a great website with the videos above, along with articles and other resources available. Definitely worth checking out.