In 1 Samuel 27:5–6 we read about David receiving refuge from King Saul. It reads:
Then David said to Achish, "If I have found favor in your eyes, let a place be given me in one of the country towns, that I may dwell there. For why should your servant dwell in the royal city with you?" So that day Achish gave him Ziklag. Therefore Ziklag has belonged to the kings of Judah to this day.
Archaeologists and researchers from the Hebrew University, the Israel Antiquities Authority, and Macquarie University believe that they have discovered the long-lost town of Ziklag mentioned in 1 Samuel (and other passages) which provided refuge for David from King Saul.
Here are some videos about the discovery:
1 Samuel 30 details how the town of Ziklag was raided and burned down by the Amalekites. The first two verses of that chapter:
Now when David and his men came to Ziklag on the third day, the Amalekites had made a raid against the Negeb and against Ziklag. They had overcome Ziklag and burned it with fire and taken captive the women and all who were in it, both small and great. They killed no one, but carried them off and went their way.
The Israel national news, Arutz Sheva, reportst that:
The excavation, which began in 2015 at the site of Khirbet a-Ra'i in the Judaean foothills – between Kiryat Gat and Lachish, has proceeded in cooperation with Prof. Yosef Garfinkel, Head of the Institute of Archaeology at the Hebrew University in Jerusalem, Saar Ganor of the Israel Antiquities Authority and Dr. Kyle Keimer and Dr. Gil Davis of Macquarie University in Sydney, Australia. The excavation was funded by Joey Silver of Jerusalem, Aron Levy of New Jersey, and the Roth Family and Isaac Wakil both of Sydney. The excavation has been ongoing for seven seasons with large areas being exposed – approximately 1,000 sq.m., leading to this new identification for Ziklag.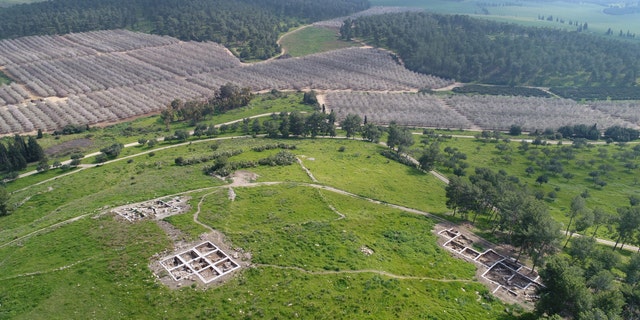 Resources:
"Biblical City From Time of King David Discovered" by staff | Arutz Sheva: Israel National News 7/8/19
"Biblical City with Links to King David Discovered in Southern Israel" by James Rogers | Fox News 7/9/19
"Lost biblical city of Ziklag discovered by archaeologists" by staff | By Strange Sounds -Jul 9, 2019
_____________________
Post about other biblical archaeological discoveries from this blog include:
A Guide to Internet Archaeology
Clay Seal of King Josiah's Aide Found
Ring of Pontius Pilate Discovered
23 New Testament Figures Confirmed
History Has Gone to the Toilets-The Ancient Latrine of Lachish
Virtual Unwrapping of Levitical Scroll
Ancient Shopping List Provides Evidence of When Bible Was Written
12th Dead Sea Scroll Cave Found!
53 People in the Old Testament Confirmed Archaeologically
New ESV Archaeology Study Bible